J.W. O'Donovan were delighted to once again sponsor and be part of the judging panel for this years UCC IGNITE programme awards.
The event celebrated the achievements of the 7th cohort of Recent Graduate Entrepreneurs who participated in the 12 month business incubation programme. Ten aspiring Recent Graduate Entrepreneurs, who have just commenced the programme, were also introduced on the night.
The awards judging panel comprised of Sean Byerley, Head of Bank of Ireland – Cork City; Rosscoe Deasy, Associate Director EY; and John Fuller, Associate Solicitor, J.W. O'Donovan.
Sean Byerley, Head of Bank of Ireland – Cork City, chair of the judging panel, praised the young companies, saying "The calibre of the business presentations this year was extremely high, and it's very encouraging to see that a number of the start-ups we met are well on the road to success having already generated sales revenue or raised finance. Each of the start-ups that presented to the judging panel demonstrated true entrepreneurial spirit and steadfast determination; and each has the potential to develop a successful business."
Top award winner ApisProtect helps commercial and amateur beekeepers, managing 81 million beehives globally who are losing up to 50% of their colonies each year by using in hive IoT enabled sensors, machine learning , and world class beekeeping knowledge to help them identify hive problems, diseases, and pests.
The JW O'Donovan Solicitors/IGNITE Innovation Award was presented to Kaushik Shanmugam of Lacidem, for the most innovative use of technology. Lacidem is a wearable technology company that provides solutions which enable hospitals to proactively monitor post-surgery/treatment cardiac patients remotely and predict abnormalities. Kaushik came up with the idea when he lost his friend who suffered a heart attack, which motivated him to find a solution to monitor patients outside hospitals efficiently.  Pictured below is John Fuller of our Corporate and Commercial team presenting the award to Kaushik Shanmugam.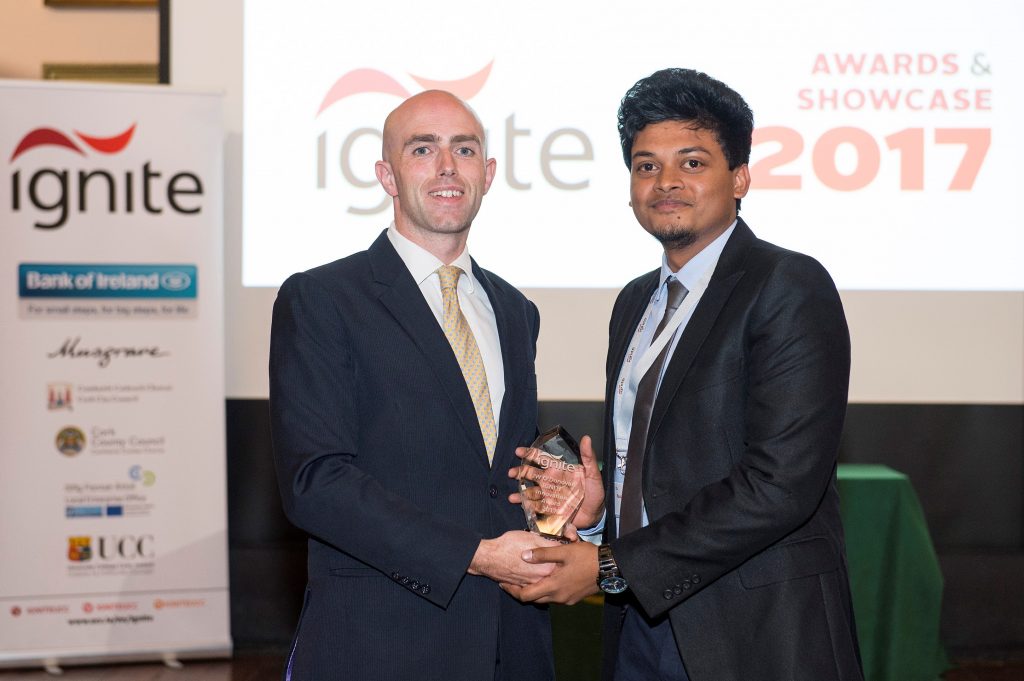 The EY/ IGNITE Business Plan Award went to Conor Lyden of TrustAp, a new transaction platform that acts as a safety net for consumers when they're buying and selling online. Trustap holds the buyer's money until the transaction has completed and subsequently financial losses to consumers are eliminated.