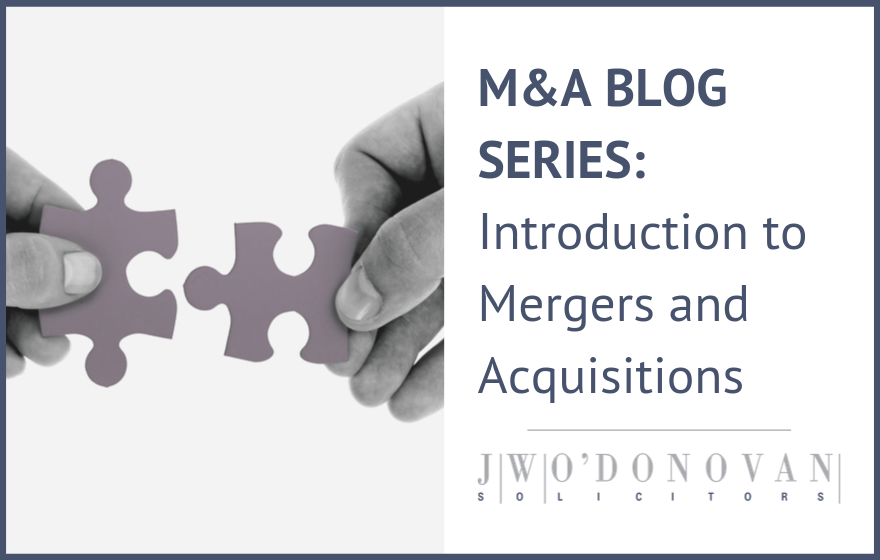 Despite a business environment held hostage to the Brexit threat for the last three years, J.W. O'Donovan has seen continued growth and activity in the sale and purchase of Irish private companies. There has been particular activity around inward investment by foreign-based multinational companies either looking for an established business in Ireland or looking to further build on existing footholds they might have in the State.
We are often approached by clients and potential clients looking for guidance and advices on a potential sale or purchase of a company. For many, it is their first time involved in such a process. It can be a very daunting and, for some, overwhelming introduction to what has become a relatively forensic legal and financial process.
With that in mind, the Corporate team at J.W. O'Donovan will, through a series of upcoming dedicated articles, share some of the ins and outs of a typical share sale and purchase in relation to an Irish private company. In the first of the series, we look at the basic components of transactions of this type.
What is involved in a a private company sale or purchase? 
In terms of setting out what is involved in a private company sale or purchase in Ireland, a transaction can generally be broken down into its essential elements as follows:
The Target company(s)
This is the company or indeed group of companies that are referenced generally as the "Target" entity, although it is actually the shares in the company that are being acquired.
2. The parties involved comprising the Seller(s) being the shareholder(s) in the Target company and the Buyer
The Seller can be an individual or holding company of the Target. Quite often, it will be a holding company for tax planning purposes, which enables an ultimate beneficiary to maximise reliefs available between grouped companies. We will touch on this again in later articles.
3. Pre-Heads of Terms discussions and negotiations
This stage includes a high level business review to evaluate price offering for the shares.
4. The Heads of Terms
The Heads of Terms is a document setting out the commercial terms reached between the parties.
5. Financial Due Diligence
At this stage, the buyer's financial advisors will do a thorough analysis of the financial wellbeing of the Target company.
6. Legal Due Diligence
The buyer's legal team will also do a complete review of key areas of the Target company including corporate structures, commercial agreements and HR records and policies.
7. Negotiation and transactional documentation
The primary documents including Share Purchase Agreement, Deed of Tax Covenant and Disclosure Letter are drawn up.
8. Approvals of Regulatory Authorities
Approval is sought from Regulatory Authorities such as the Competition and Consumer Protection Commission, where required.
9. Completion and transfer of funds
Once the transaction documentation is signed and funds are transferred to the sellers, the transaction is complete.
10. Post-completion integration
After the transaction completes, the two companies are then integrated on an operational level.
These are the components in their basic form but a transaction may have a number of ancillary or additional components. These may include pre-transaction corporate restructures such as the establishment of special purpose vehicles or the transfer of assets out of Target company to a special purpose vehicle or existing connected company.
No two transactions are the same. There are too many variables involved that dictate the manner in which a transaction proceeds. One fundamental difference between transactions and the parties involved is the contrast between the buyer's objective and the seller's objective.
A buyer is likely to be motivated by expansion plans with the target company being seen as a good bolt-on to an already established business in the same sector. A seller's objective can sometimes be broader. For example, it may be the realisation of an investment, or a decision to move out of a particular market. Whatever the reason, from the outset of the process, both parties need to be clear on their objectives – what do they want to achieve, for how much and by when?
In our next article, we will go into more detail on the Pre-Transaction steps to be considered before engaging in the Sale/Purchase process.
If you would like more information on this topic, contact John Sheehan, Partner at jsheehan@jwod.ie or 021 7300200.